Product Description
3 Layers Geosynthetic Clay Liner (GCL)
Description
It is composed of 3 levels. The upper level and the lower level are woven geotextile and non woven textile. The middle level is bentonite grains, which are carefully selected from Liu Fangzi crude and filled in between the two levels after special processing.
Product characters:

1. Environment friendly

GCL is made of natural raw materials of sodium-bentonite. It is raw and natural materials, aging and corrosion seldom happen. It can keep its quality and then it does not cause any injuries and pollution for human and the environment. It is not only waterproof, but also has good ventilation performance. It can stick up for the exchange of the ecological environment. It is a pure natural, new, green waterproof material.

2. Permanent waterproof, excellent performance

Natural sodium bentonite was formed billions of years ago.
Its waterproof properties are much more durable than that of the buildings. Sodium bentonite would transform to high density septum under hydro pressure. When The thickness is 3mm, the permeability is below a×10-11/sec(a=1~9), which equals to the density of 100 times of the clay with 30 mm thickness. Water retention performance is evident.

3. Easy to construct

Bentonite powder, nails and washers are enough for connection and fixation. Construction is not constrained by weather conditions and it could be taken under cold or wet conditions. Bentonite powder is spread on overlap point. When water comes, GCL would be overlapped automatically. It is so far the only material that starts the waterproof effect by water in the world. It is not necessary to take additional examination when the construction is completed. The repair works are easy in case of waterproof defects. Among the existing waterproof materials, GCL`s construction period is the shortest and its operation is the easiest. It has an eminent effect on shortening the construction period as well as saving the cost.

4. Strong Self-Restore Capacity

The integration between waterproof material and its target enables GCL a 20~28 times swelling volume. Even if concrete structure trembles or subsides, the bentonite in GCL would restore the crack of 2mm or below on the concrete structure immediately. Even if the diameter of perforation reaches 30 mm, the restoration will be finished within 15 days completely.
Specification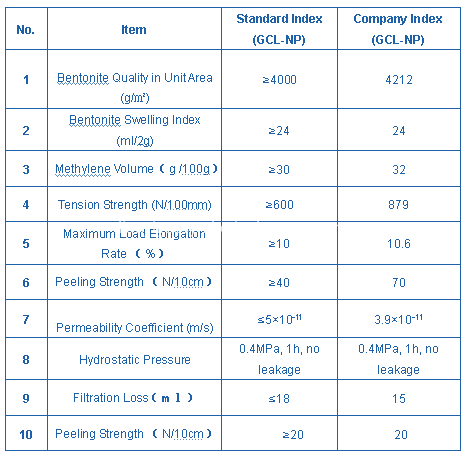 Our Main Products:
Fiberglass Geogrid,Polyester Geogrid,Nonwoven Geotextile,PP Biaxial Geogrid,Fiberglass Geogrid,Polyester Geogrid,Asphalt Reinforcement Geocomposite,Woven Geotextile,HDPE Geocell,HDPE Geonet,Drianage Geocomposites,Fiberglass Mesh,Spunbond Nonwoven Fabric,etc