Product Description
PET Nonwoven Geotextile Fabric for Pavers
We can offer PET Nonwoven Geotextile Fabric used for waterproofing purposes. Nonwoven Geotextile for waterproofing ourposes are offered from 80 GSM to 1200 GSM as per customer's requirement.These geotextiles are made using synthetic fibers with base material being Polypropelene or Polyester , as per customer's requirement.
Width can be offered from 1 mtr to 6 mtr. Standard Widths in Mtrs are 1/2/2.5/3/5.8 and Standard Roll Length is 100 mtr.
Colours offered regulalrly are Black and White.
Function:

1. Polyester Nonwoven Geotextile has good air and water permeability to let water flow through it so as to effectively control sandrock running-down.
2. Geotextile has good water transmissibility, it can form drainage channels inside soil mass to drain redundant liquid and air out of the soil mass.
3. Geotextile helps to enhance the soil mass' tensile strength and non-deformability and structural stability so as to improve soil mass quality.
4. It can effectively make the concentrated stress diffuse, transfer or decompound, and prevent the soil mass against the destruction of outside force.
5. It can prevent the mixture of sandstone, soil mass and concrete of upper and lower layers.
6. Its mesh is hard to jam by virtue of the compliancy and motility of the reticulation formed by indefinite form fibrous tissue.
7. High water permeability-it can keep good water permeability even in the pressure of soil and water.
8. Corrosion resistant-it is made from polypropylene fiber or terylene or other chemical fiber, featuring resistance to acid and alkali and oxidation, non-corroding, no worm-eaten.
9. Easy construction-low weight, easy operation, simple construction.
Specification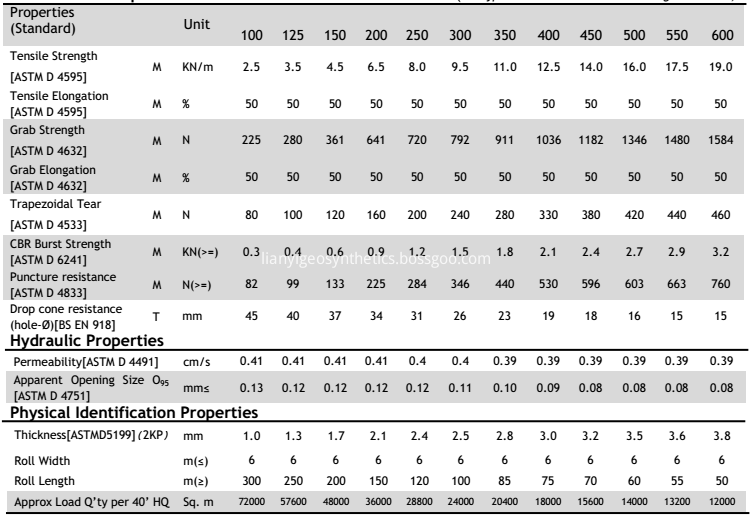 Our Main Products:
Fiberglass Geogrid,Polyester Geogrid,Nonwoven Geotextile,PP Biaxial Geogrid,Fiberglass Geogrid,Polyester Geogrid,Asphalt Reinforcement Geocomposite,Woven Geotextile,HDPE Geocell,HDPE Geonet,Drianage Geocomposites,Fiberglass Mesh,Spunbond Nonwoven Fabric,etc