Product Description
Polyester Nonwoven Geotextile Drainage Fabric
PET Nonwoven Needle Punched Geotextiles Fabric is a nonwoven needle punched polyester paving geotextiles, which provides stress relief, waterproofing and reduces reflective cracking functions in new and existing paved roads. Designed for countries having extreme weather conditions in mind, the product has undergone a number of years of testing and refinement to provide the best overall performance. The unique properties of these Geotextiles provide waterproofing and stress relief of the pavement structure. The high melt temperature of Polyester (PET) ensures that the geotextiles properties are not affected by the application of hot bitumen or asphalt.
Function:

1. Polyester Nonwoven Geotextile has good air and water permeability to let water flow through it so as to effectively control sandrock running-down.
2. Geotextile has good water transmissibility, it can form drainage channels inside soil mass to drain redundant liquid and air out of the soil mass.
3. Geotextile helps to enhance the soil mass' tensile strength and non-deformability and structural stability so as to improve soil mass quality.
4. It can effectively make the concentrated stress diffuse, transfer or decompound, and prevent the soil mass against the destruction of outside force.
5. It can prevent the mixture of sandstone, soil mass and concrete of upper and lower layers.
6. Its mesh is hard to jam by virtue of the compliancy and motility of the reticulation formed by indefinite form fibrous tissue.
7. High water permeability-it can keep good water permeability even in the pressure of soil and water.
8. Corrosion resistant-it is made from polypropylene fiber or terylene or other chemical fiber, featuring resistance to acid and alkali and oxidation, non-corroding, no worm-eaten.
9. Easy construction-low weight, easy operation, simple construction.
Specification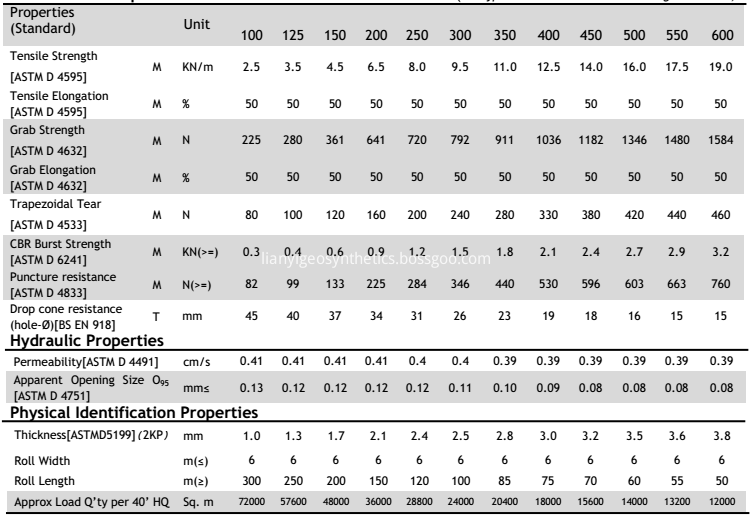 Our Main Products:
Fiberglass Geogrid,Polyester Geogrid,Nonwoven Geotextile,PP Biaxial Geogrid,Fiberglass Geogrid,Polyester Geogrid,Asphalt Reinforcement Geocomposite,Woven Geotextile,HDPE Geocell,HDPE Geonet,Drianage Geocomposites,Fiberglass Mesh,Spunbond Nonwoven Fabric,etc